Some of our year 7 students work has been chosen to be part of flags being used within the Queens Jubilee celebrations in London on Sundays 5th June. Their work was chosen from students submissions from across the world and will be part of a section called River of Hope in the Pageant.
The Platinum Pageant tells the story of The Queen's 70-year reign and our transforming society. They commission artists and the communities they work with to interpret different chapters of this narrative in their own unique way, placing those communities and the work they create centre stage, in a spectacular unfolding story filled with wonder, warmth, wit and wow-factor.
The year 7 students involved are:
Forming an important part of the Platinum Pageant, the 'River of Hope' section will comprise of two hundred silk flags which will process down The Mall, appearing like a moving river. Primary and Secondary Children were invited to create pictures of their hopes and aspirations for the planet over the next 70 Years. Our entry will now be transferred onto silk and used within the River of Hope section of the pageant.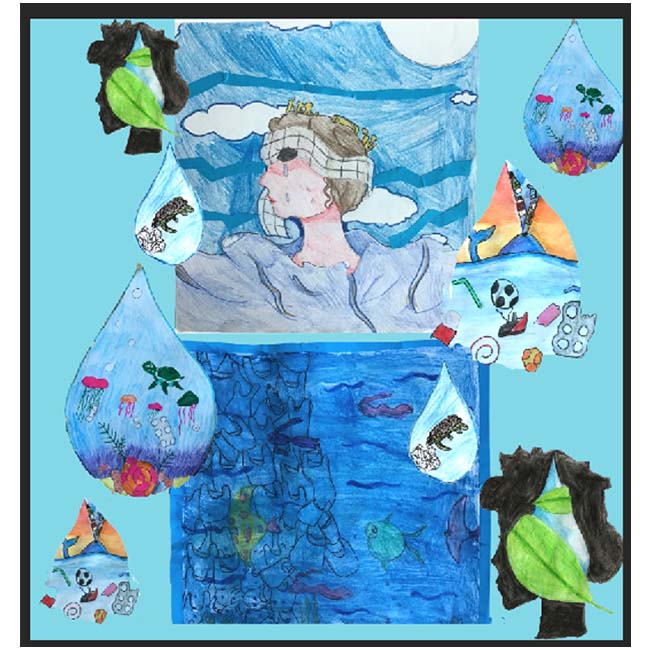 River of Hope
To create the spectacular celebration of street band music, youth creativity and dance, we have linked up with Oi Musica under the Thames Festival Trust to form the 'River of Hope' section of the Pagent. Our 120 young people will be boosted by 30 professional guest musicians from across the UK courtesy of Edinburgh street band organisation Oi Musica, together creating a New Orleans-inspired wall of sousaphones–the largest ever to parade in the UK! Our performance makes a conscious choice to exemplify the power of unity and collective action, drawing on the themes of connection, togetherness, environment and climate justice. 
Flags for everyone!
200 flags are currently being designed through Thames Festival Trust's River of Hope creative learning project, which links schools around the world through the study of rivers. The designs created will be featured on beautiful flags, animated by 200 young people from schools across London and choreographed by our one and only Leon Hazlewood! 
It's going to be epic
With 350 parading performers channelling their energy, talent, passion, pain and joy into an extraordinary performance, River of Hope is a large-scale carnival piece that will be extraordinary, intoxicating and powerful. 
'Our performance of River of Hope expresses our deep human need for celebration, recognising the importance of shared experiences and coming together to take part in uninhibited good times! It acknowledges the need for collective joy, celebration and above all, hope, as we face an uncertain future together. We are honoured to be a part of this historic event and are grateful for the opportunity.' –  Tamzyn French, Kinetika Bloco CEO 
Link to Official Pageant Page
Link to Oi Musica
Link to Thames Festival Trust