Are you looking for ways to excite and engage your children in faith and church? Do you feel a bit empty or dry in your own faith or experience of church, and need 'topping up' with the joy of the Gospel?
Brighton Celebrate weekend is a 'one-stop shop' to meet these needs as well as connecting you and your children with lots of great people from across our Diocese.
On the 15th and 16th July at Cardinal Newman Catholic Secondary School in Hove:
approximately 300 people of all ages and denominations come together for a weekend of inspirational teaching from a number of excellent ecumenical speakers;
stunning celebrations of the Mass on each day; praise and worship led by One Hope Project ;
optional workshops to inspire and inform;
time to rest, pray and socialise;
and a highlight of the weekend are the amazing youth streams led by experienced youth workers for children and youth.
If that isn't reason enough to come Celebrate are offering a 50% discount to families new to the conference.
For more information and to book your places click here.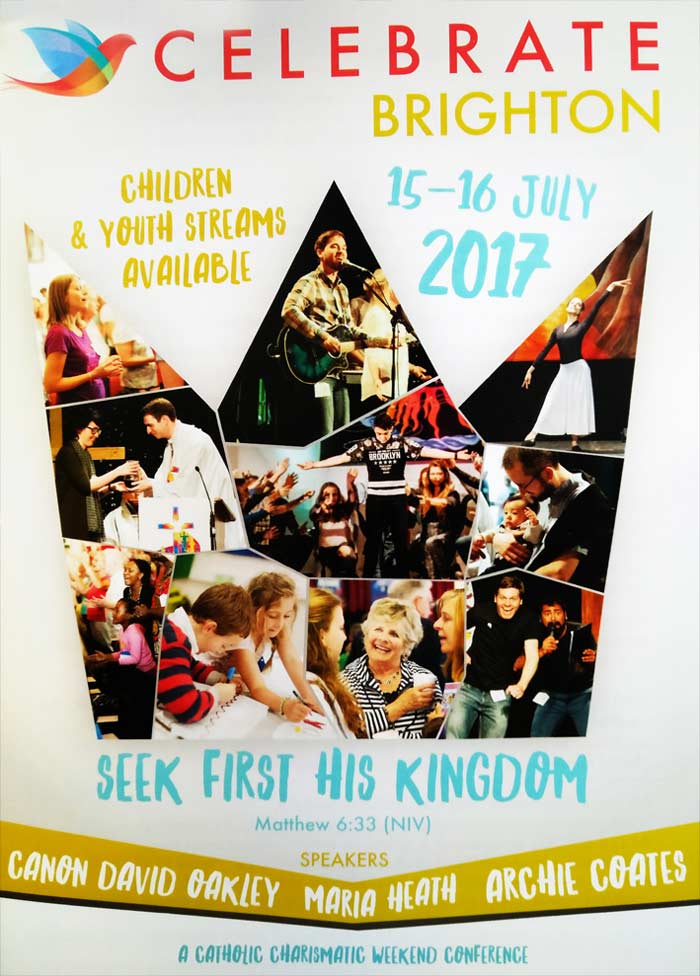 I have been attending the Celebrate Conference for a number of years with my family. It has become an essential part of my annual diet and has been a firm favourite for our children who, like many of our young people, have all found it difficult to feel engaged or excited about church. Celebrate has introduced them to a network of young Catholics from across the South who encourage and support each other in faith and life, and has presented them with teaching and experience of prayer – including the Mass – which they have found relevant and engaging. I would whole-heartedly recommend the Celebrate Conference to everyone.

— Mr Dring, School Chaplain