Are you looking for ways to excite and engage your children in faith and church? Do you feel a bit empty or dry in your own faith or experience of church, and need 'topping up' with the joy of the Gospel?
Brighton Celebrate weekend is a 'one-stop shop' to meet these needs as well as connecting you and your children with lots of great people from across our Diocese.
On the 14th and 15th July at Cardinal Newman Catholic Secondary School in Hove:
Inspirational main-stage teaching from renowned Christian speakers
Wide range of interesting and inspirational workshops
Exciting streamed activities and teaching for children, teenagers and young adults
Wonderful praise and worship from John Wright and drama from RISE Theatre
Powerful celebration of the Mass
Opportunities for Sacrament of Reconciliation
Times of Prayer Ministry available from trained prayer teams
Encouragement and growth in the giftings of the Holy Spirit
Please bring a packed lunch with you on both days. Tea and coffee will be available.
On Saturday evening you have the option of ordering a buffet meal at a subsidised price of only £5.50 (£3 for children up to school year 6).
Please enter current school year for children and youth tickets to help us organise the streams.
Anyone under the age of 16 must have a designated adult attending the conference who is responsible for them. It is assumed that the person making the booking is this adult.
A discount is available for families who are new to Celebrate (contact 01444 450203)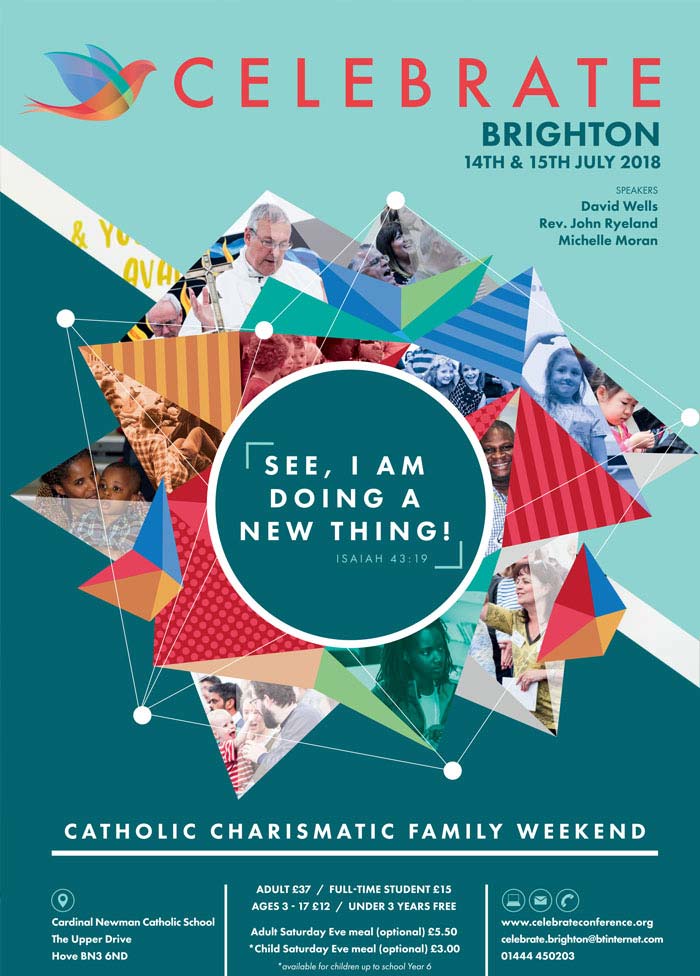 For more information, please click here.
To book online, please click here.
To book via cheque, please download our form.
I have been attending the Celebrate Conference for a number of years with my family. It has become an essential part of my annual diet and has been a firm favourite for our children who, like many of our young people, have all found it difficult to feel engaged or excited about church. Celebrate has introduced them to a network of young Catholics from across the South who encourage and support each other in faith and life, and has presented them with teaching and experience of prayer – including the Mass – which they have found relevant and engaging. I would whole-heartedly recommend the Celebrate Conference to everyone.

— Mr Dring, School Chaplain